SIGFest Events
SIGFest 2017

We are pleased to announce plans for 2017, our 18th Annual SIGFest which will be held in beautiful Bergen County at BMW North America's Headquarters in Woodcliff Lake, New Jersey.
Friday, June 16, 2017

SIGFest 2017 Meet & Greet Dinner
Restaurant: Fire & Oak - American Grill
Location: 100 Chestnut Ridge Rd
Montvale, NJ 07645
Tel: (201) 307-1100
Time: 7:00 PM (to facilitate seating)
Description:
We are kicking off the SIGFest weekend with a SIGFest Meet & Greet Dinner. Meet fellow SIGmembers and swap stories over a drink at a local restaurant (Fire & Oak). There'll be great people, good food for purchase, as well as many examples of BMW's finest creations. Fire & Oak is a unique American Grill. Serving gourmet comfort food made from the freshest ingredients. With menu items ranging from sushi to fresh ground burgers to prime steaks, there is something for everyone.
Web Site: http://www.fireandoak.com/montvale/montvale.html
Saturday June 17, 2017 - SIGFest Concours D'Elegance

BMW North America Facility Tour & BMWCCA Cars & Croissants
Location: BMW North America Headquarters
300 Chestnut Ridge Rd
Woodcliff Lake, NJ 07677
Time: 8:00 AM - 9:30 AM
Cost/Donation: Free to BMWCCA Members
Description: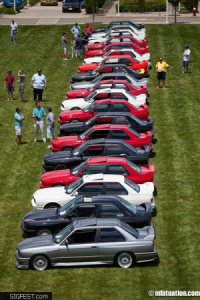 The BMWCCA Annual Car Club Event - SIGFest will participate along with NY/NJ Local Chapter meeting at BMW North America's Cars & Croissants. For SIG members from out of state, this maybe a once in a lifetime opportunity!

BMW NA stages the newest models in front of the headquarters front entrance as well as prototypes. For example, over the last couple of years, we got to see the Frozen Gray E92 M3 Coupe, i8's, and other new models.

In addition to seeing the newest cars, a tour of BMW NA's training facility as well as a question and answer session with raffled gifts to conclude the meeting. It is truly a special event and amongst the largest attended annually.
SIGFest - 2017 Concours d'Elegance and Picnic
Location: BMW North America Headquarters (same as above)
Time: 10:00 AM - 4:00 PM
Cost/Donation: $25.00
Description:
Car show and informal gathering. Come and meet fellow SIG members and their cars! There will be lots to see and do at this year's event. If you missed the last time we were hosted by BMW North America, you can read the complete Roundel article here.
Register Now!
---
SIGFest is a private event held for BMWCCA members, E30 M3 Special Interest Group members, and S14.net members and their guests ONLY. Participation requires you to own an E30 M3, unless you're attending as a guest.
Disclaimer: SIGFest is facilitated by the E30 M3 Special Interest Group (bimmers.com), The BMW Car Club of America, our sponsors and many E30 M3 enthusiasts. SIGFest and The E30 M3 Special Interest Group are in no way associated with BMW AG, BMW NA or any BMW subsidiary organizations.